World's Most Expensive Dolls
Dolls are not just toys. Some are very expensive collection items. Other are made from expensive materials or in complicated ways so they can be very pricy. Here are some of the most expensive dolls in the world:
Ghostface Doll is an action figure that is made in likeness of a member of the rap group Wu Tang Clan - member called Ghostface Killah. Action figure is made in limited edition, wears a red robe and Yankees cap and is decorated with wristband and chain with medallion. Band and chain are made of 14-karat gold. It can be bought for $499.99.
Cinemaquettes are collection item figures made to represent characters from famous movies. They are made in high quality with great attention to detail and in very limited number. Their price goes between $1000 and $1500.
Beanie Baby are soft stuffed animal dolls manufactured by Ty Warner. They are children's toys but are also very sought by collectors. Dolls represent different animals and are, again, made in limited series. Beanie Baby that costs the most is is the royal blue elephant named Peanut. Most dolls of the Peanut series were made in light blue color but because of manufacturing error some were made in darker shade. These elephants can have price of even $5,000.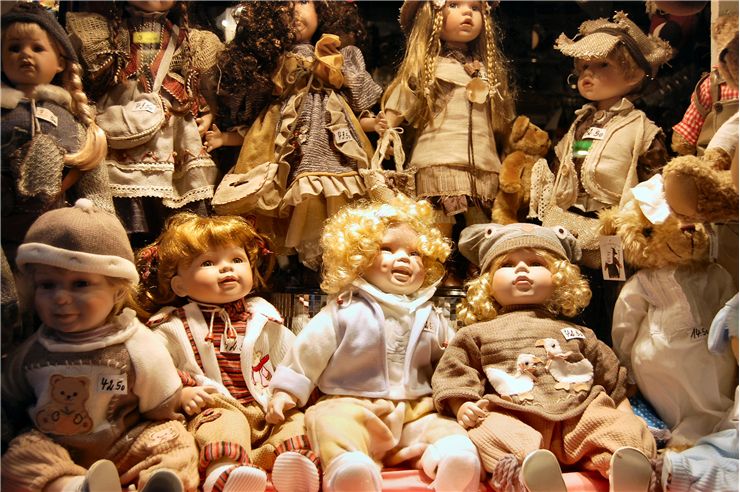 Twin Hilda JDK are classic ceramic baby dolls with angelic features, detailed clothes and eye that can open and close. They were sold over the eBay for $7,500.
Original Barbie is a Vintage Barbie from 1959, the first series of Barbie dolls. If perfectly preserved its price can reach $8,000.
Diamond Barbie is made in 1999 by diamond manufacturer De Beers for Mattel in celebration of 40th anniversary of Barbie. Diamond Barbie is dressed in gown that is decorated 160 diamonds. That brings its price to $85,000.
Diamond Teddy Bear is a bear doll made in celebration of 125 years of Teddy Bear doll. This, most expensive teddy bear ever made, has eye made of diamonds and sapphires and mouth from one piece of gold. It is made in Germany and its price is $193,000.
Original G.I. Joe is original 12-inch action figure, a prototype from the first series of this doll. Today's value of this action figure is $200,000. It is now in private hands, and on display in Geppi Museum in Baltimore, Maryland...
Madame Alexander Eloise is a set of five hand-made one-of-a-kind dolls. Their purpose, above all, was to benefit several charities in 2000. Several high-end designers worked on them: Harry Winston provided nine carat diamonds; furs were from Oscar de la Renta that works in Alixandre Furs. They have Christian Dior's clothes and accessories by Kathrine Baumann made from Swarovski crystal. THewhole set was sold for $5,000,000
L'Oiseleur, which means Bird Trainer, is four-foot tall automaton, a doll with complex mechanism. It is dressed in detailed renaissance clothing, carrie a sword, in one hand it holds flute and in another a bird. Doll can play the flute and it can play Marche des Rois by Georges Bize on it. It has a mechanism with spring that runs all functiuons. Its price is $6,250,000 and is regarded as the most expensive doll in the world.