History of Blythe Doll - Allison Katzman's Invention
Blythe doll is a fashion doll designed in 1972 by Allison Katzman who worked at "Marvin Glass and Associates". It was inspired by was modeled after drawings by Margaret Keane who is an artist famous for painting of the doe-eyed children. It was sold for only one year by United States toy company Kenner. It took 27 years to become popular again. In 1987, an American toy company Tonka acquired Kenner Parker Toys, Inc and with that got all rights for toys that Kenner sold. Hasbro purchased Tonka in 1991 and got all rights from them. Takara of Japan got license from Hasbro in 2001 to produce so-called "The New Edition of Blythe" or "Neo Blythe". Ashton-Drake Galleries got license from Hasbro in 2004 to sell Blythe replica dolls on the United States soil. Hasbro began selling their own version of Blythe dolls in 2010.
Blythe dolls are made in three sizes: full size has height of 28 cm and is only model that can change colors of their eyes; "Petite Blythe" is 11.2 cm and Middie Blythe. Blythe dolls are sold largely to adults and collectors and their prices go from $60 to $400 for some limited edition ones. Original Blythe dolls from 1972 are sought by collectors and can reach four digit prices.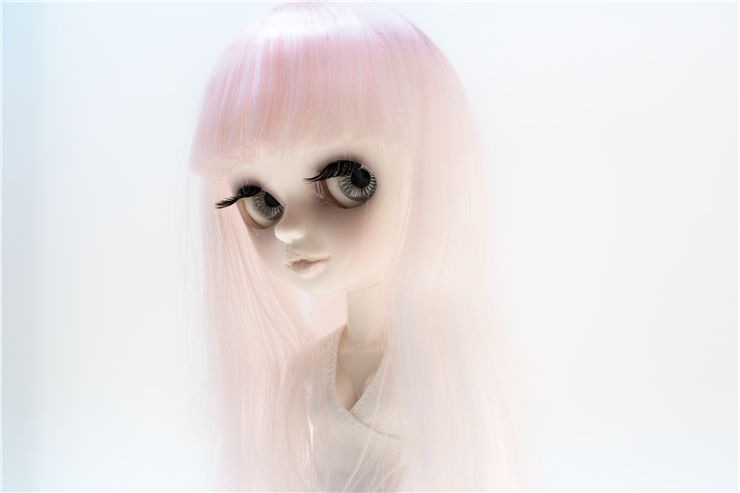 Original Kenner Blythe dolls were made with the same faces bit with four hair colors and six hairstyles. They also had 12 different dresses.
When Takara got license to make their own Blythe dolls they started with copies of the original dolls but in time they started releasing new doll each month. AS the time passed they made 176 of the Neo Blythes, 210 of Petites, and 4 of the newest addition to the Blythe line, the Middie Blythe dolls. Beside by size different models of Blythe dolls differ in some other details. Petite Blythes have half-closed eyes and bendable bodies while Middie Blythes' heads tilt and their eyes look left and right. In 2005 and 2006, Ashton-Drake Galleries made 5 replicas of the Kennel dolls and outfits from 1972. Second release was made in 2007. Difference between these two releases was that first had color of skin slightly green while the second was more peach-pink. Ashton-Drake Galleries' production was stopped in 2008.Untilthen they manufactured 12 different models of Blythe dolls. Hasbro joined with their "Blythe Loves Littlest Pet Shop line" in 2010. Blythe dolls were sold as petsitters to Hasbro's already existent Littlest Pet Shop toy line.