History of Dollhouse
Dollhouse is a miniature home for dolls. They are toy and collectibles. Toy ones are made in 1:18 scale while those made for collector are usually in 1:12. They are known as dollhouses in United States and Canada and dolls' houses or dollshouses in United Kingdom.
Earliest types of dollhouses made in Europe are from 16th century and were called "baby houses". They were made as shelves and designed to have rooms with very detailed furnishings and accessories. They were not intended as toys but were were trophy collections by wealthy matrons and they had a price of a full-size house. Each baby house was designed differently. In the 18th century appeared smaller houses that had more realistic interiors. Such was Tate house. Early houses were made by hand which made each unique. With the beginning of Industrial Revolution dollhouses and furniture were made in mass-production. They were mostly made in Germany, United Kingdom and United States. The most famous German companies were Christian Hacker, Moritz Gottschalk, Elastolin, Märklin, Rock and Graner and Moritz Reichel. Companies that made dollhouses in the United Kingdom were Silber & Fleming, Evans & Cartwright and Lines Brothers. The Bliss Manufacturing Company made dollhouses in the United States.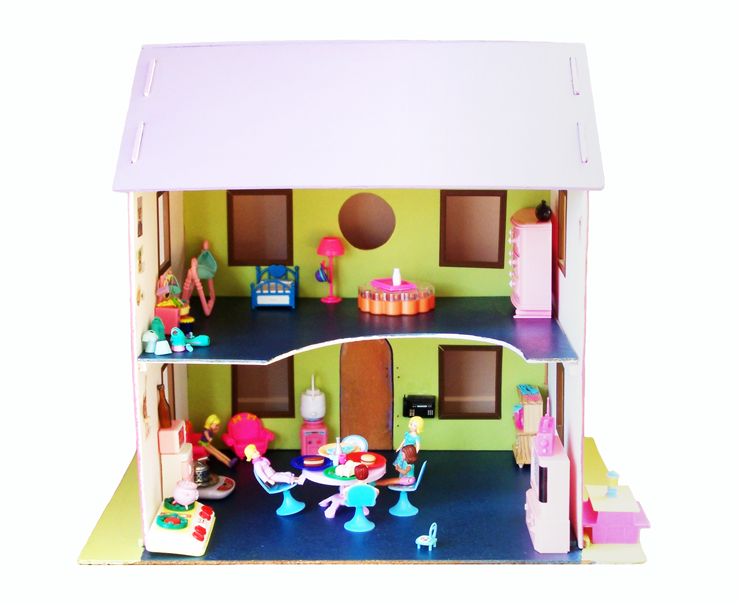 Until the First World War the most prized dollhouses and furniture were made in Germany. From 1917, TynieToy company of Providence, Rhode Island made dollhouses inspired by American antique houses. After the end of the Second World War mass-production of dollhouses rises, which combined with cheaper materials lowers their prices and makes the more affordable. From that time dollhouses were made from sheet metal, plywood or medium-density fiberboard and had cast iron, wooden and also plastic furniture.
There are different forms of dollhouses. While some are ready-made and decorated, some are sold as kits and some are custom built houses. Some hobbyists make them from scratch and by their own design. Most of them are built so they hold in one piece but some of them are made from the modular boxes where each box is one room.
Dollhouses made earlier than 20th century did not have uniform scale, even those made from the same manufacturer and in the same line. Only with the beginning of the 20th century and into the 21th, most of the children dollhouses were made in 1:18 scale. Houses made in 1:16 are very rare. The most famous manufacturing companies of today are Lundby, Renwal, Plasco, Marx, Petite Princess, T. Cohn, Caroline's Home, Barton, Dol-Toi and Tri-ang. Most modern dollhouses made for adult collectors are made in 1:12 scale but some are made in 1:24 scale, 1:48 scale and even 1:144 scale which are called "dollhouses for dollhouses".
Some of the famous dollhouses are Amsterdam 18th century dollhouses of Sara Rothé, Uppark Baby-house from 1730s, Nostell Priory Baby-house also from 1730s, The Tate House from 1760s, Titania's Palace made from 1907 to 1922, Queen Mary's Dolls' House made in 1924, Colleen Moore's Fairy castle, The Stettheimer Dollhouse manufactured between 1916 and 1935, Thorne Rooms, Moomin house and Tara's Palace.