Original Barbie - Story Behind the Original Barbie Doll
The history of modern toy industry changed forever when Ruth Handler, wife of a co-founder of the Mattel toy company, came to an idea in 1956 to stop the trend of the infant-like toys that were popular in the 1st half of the 1900s in the United States. During the trip to Germany, she saw that children there are much more attracted to the adult-like looking dolls and that they enjoy giving them adult roles and can spend a lot of time recreating various jobs and social events. She also saw that her daughter Barbara had the same tendencies when getting the opportunity to play with her paper dolls.
The first attempts of Ruth Handler to convince her husband and leadership of the Mattel company that her idea was sound was met with resistance, but Ruth persevered. She purchased three adult-like dolls from Germany, specifically from the Bild Lilli line that perfectly matched her vision. This doll was first produced and sold by the German magazine Build in 1955 and was based on a design from the popular comic book drawn by artist Reinhard Beuthin. The doll was a very close visual match to the comic book adventures of the blonde bombshell Lili who was a capable working girl and always ready to use her beauty to use men for her needs. The doll itself was initially marketed and sold to adults, but it very quickly became obvious that young girls liked it very much and wanted to spend a lot of time with her and the various outfits that could be purchased for the doll. Ruth Handler gave one of the dolls to her daughter and took remaining two to Mattel where she successfully negotiated for the release of the similar looking model on the territory of United States. After redesign that was done by Handler herself and an engineer Jack Ryan, the first Barbie (named by the nickname of Handler's daughter Barbara) doll was ready to be showcased to the public.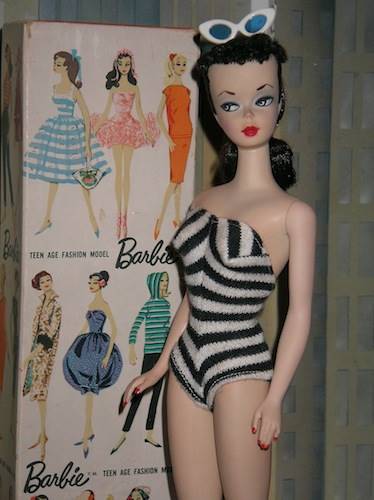 First Barbie doll made her debut on March 9, 1959, at the American International Toy Fair in New York. In this first model, Barbie was marketed as a "Teen-age Fashion Model" with zebra striped swimsuit, signature topknot ponytail (with hair available in both blond and brunette colors, with blondes outnumbering brunettes by 3:1 ratio), non-removable heels, and detachable sunglasses that could be placed on top of her head, eyes or held in dolls hand. Her size was in the standard 1/6 scale of the adult human body, approximately 11 and a half inches tall. Designs of clothes were created by the Mattel fashion designer Charlotte Johnson, and the manufacturing was done in Japan where clothes pieces were hand-stitched by Japanese homeworkers.
Even though the Mattel leadership had their doubts about the initial idea presented by Ruth Handler, Barbie doll immediately proved to be a great success. During the first year on the market, it managed to sell over 350,000 doll and armies of young girls were desperate to get their hands on much more. The 1st series of the doll was sold for only $3, and extra clothes were mirroring the latest fashion trends from Paris were also offered for sale, costing between $1 and $5.
After licensing the rights on the German doll Lilli, Mattel was sued by the Louis Marx and Company in 1960 who claimed Barbie doll infringed on their IP rights, patents and was "a direct take-off and copy" of Bild's doll Lilli. After three years, the matter was finally settled in 1963 out of court. A year later Mattel brought entire ordeal to the close by purchasing the copyright and patents for the Bild-Lilli doll.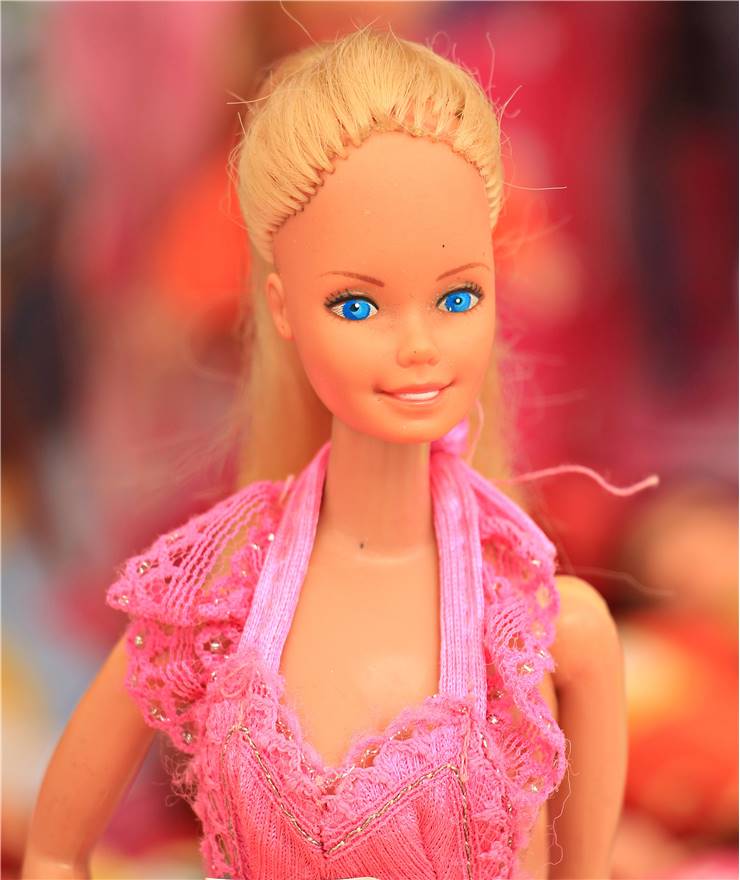 Original Barbie doll (also known as "Barbie #1" or "1959 Barbie doll") is today regarded as a valuable collector's item. Mint condition dolls from this first production run can be valued up to 27 thousand dollars.